J. J. Keller Receives THINC! Innovation Award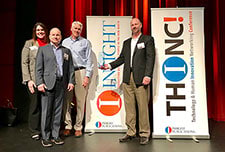 Neenah, WI – The innovation and reinvention of processes related to the Electronic Logging Device (ELD) mandate earned J. J. Keller & Associates, Inc. a 2018 THINC! Innovation Award from Insight magazine.
Rustin Keller, executive vice president and chief operating officer at J. J. Keller, along with representatives from the company's ELD and Encompass® fleet management system teams, accepted the award in a ceremony on May 10. The award was for innovation in the category of Process.
"When my grandfather started this company in 1953, we largely produced printed materials for motor carriers," said Keller. "Today, our services have evolved to include technology such as ELDs. Increasingly, our customers across all industries are seeking technology-based solutions to help them be safe and compliant."
The Insight Innovation Awards are designed to recognize innovation among businesses in Northeast Wisconsin, celebrating companies that make an important, positive impact in terms of People, Process, Product and our Planet.
The company was nominated for the award by the editors of Insight magazine. The nomination highlighted J. J. Keller's IT professionals and the 10 patents the company received over four years for its ELD solution.
Winners in the other categories included:
People: Faith Technologies, Inc.
Product: Wooda
Planet: Fork Farms
Special category of Entrepreneurial Grit: R2H Flavor Technology, LLC
About J. J. Keller & Associates, Inc.
Serving more than 600,000 customers, including 90% of the Fortune 1000® companies, J. J. Keller & Associates, Inc. is the nation's leading provider of regulatory, safety and compliance solutions. Organizations of all sizes rely on our expert insights to help create safe work environments and simplify the complexities of regulatory compliance. Our diversified portfolio of solutions and services including online management tools, publications, training, forms, supplies, consulting and professional services is trusted to safeguard workers, reduce risk and build operational confidence. As a privately-held, family-owned company since 1953, we are committed to helping protect lives every day JJKeller.com
For more information, contact: